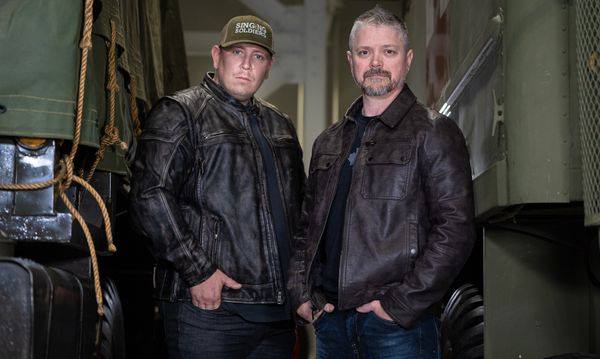 Sunday, August 22/21 at 1:30 PM
THE SINGING SOLDIERS 
Country music artists, Graham Trude and Chris Earl, have joined forces producing a world class music performance to help end the stigma of mental health.  A touch of southern outlaw and Y2K country with a STRONG message surrounding hope and ethos reflecting upon operational stress injuries.
– To put it simply; trauma healing through music therapy.
Both artists bring a sincere, REAL LIFE EXPERIENCE, positive message with a powerfully upbeat showcase of musical entertainment for all fans of all genres to enjoy. A full production performance gathering support from across the country to take part in the miracle of healing and hope.  
THE FOUNDERS 
As a PROUD Algonquin native from the Greater Golden Lake region, Chris Earl is deeply rooted in his culture and traditions.  Earl is a Corus Entertainment Rising Star winner, three time Ontario music award winner and current serving member of the Canadian Armed Forces. Chris has been sharing the stage with some of the world's greatest performers and a veteran also within the music industry. Singing Soldiers allows him to merge his aboriginal heritage and military life into performance.
Afghanistan Veteran, Graham Trude, is a Nashville recording artist and songwriter from Ontario, Canada. Diagnosed with complex Post Traumatic Stress Disorder (PTSD), Graham has been able to speak on his experiences and use music therapy as healing to help other veterans, first responders and their families. Along with his service, Graham has obtained awards in song writing along with international exposure through a television theme song and previous releases.  
TOGETHER THEY ARE: THE SINGING SOLDIERS 
A.S.I.F.F
The Singing Soldiers generously offers various musical, entertainment and therapeutic healing programs, along with the "A SONG IS FOREVER Foundation" (A.S.I.F). The A.S.I.F Foundation was created to give back to members and families suffering from operational stress. Along with entertainment, Singing Soldiers provide their own serialized line of unique acoustic guitars and trauma healing accessories for persons dealing with all forms mental health related matters. We are able to grow the A.S.I.F Foundation through generous contributions and the sale of instruments and accessories to the public, allowing us to support charities and not-for-profit organizations by donating instruments and accessories. Within (A.S.I.F), Singing Soldiers provide informative public seminars on natural methods of trauma healing, songwriting and more. This allows for public and service members to receive a message of natural coping strategies which bring hope to those who serve and suffer.
 – TO LEARN MORE ABOUT THE A.S.I.F FOUNDATION PLEASE VISIT:
WWW.ASIFFOUNDATION.COM