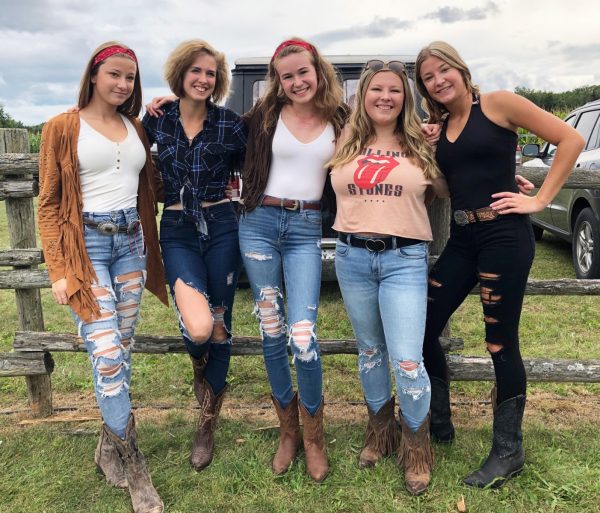 Sunday, August 22/21 at 12:30 PM
Small Town Girls –
All-Girl Teenage Country Band is NO Novelty Act
Small Town Girls are an up-and-coming country band consisting of five teenage girls from Southern Ontario.  The group started off with the Van Maele sisters, Cassie, (now 17) on lead guitar, Haley (now 15) on vocals and rhythm guitar and her twin Hannah on mandolin and backup vocals, but has since grown to include Jillian Van Daalen (16) on drums and Delaney Blake (15) on bass and guitar. 
Despite their relatively young ages, the Girls are well-known and respected within Ontario country music, having opened for Brett Kissel twice, by virtue of winning two of his #kickitwithkissel contests.  Kissel himself stated "it was like watching the Dixie Chicks for the first time on a big stage."  Also, in 2018 they were named Country Music Association of Ontario "Artist of the Month" (January), they won the Boothill Jamboree Rising Star contest, the Norfolk Has Talent competition, the Country Wildfest Emerging Artist contest.   In 2019 they placed in the finals of the Next Country Music Star.  
In the fall of 2019, the Girls had their first foray into the studio, recording three original tracks for release to online streaming services and Country radio. Their first collection of professionally produced originals (Dumpster Fire, Country-fied Saturday Night, and Girls Like Us) promises to be well worth the wait, having already become fast favorites at their live shows.
Summer of 2020 will be spent entertaining audiences on the festival circuit, with a wide range of classic and contemporary country covers, plus original material. They are well known for their moving, spot-on harmonies and musicianship that is far beyond their years.