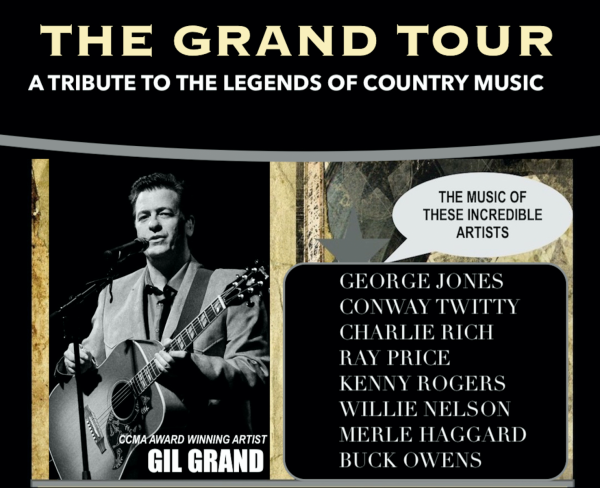 Friday, August 20/21 at 4:00 PM 
THE GRAND TOUR –  A Tribute To The Legends Of Country Music
Call it classic, call it traditional or simply call it country music's golden age, The Grand Tour – A Tribute To The Legends Of Country Music featuring Gil Grand will transport you back to a time when artists like George Jones, Merle Haggard, Conway Twitty and Buck Owens ruled the airwaves. Don't miss this high-energy show filled with the sounds of blended harmonies, twin fiddles and pedal steel guitar.
ABOUT GIL GRAND:
Gil Grand is an eight-time Canadian Country Music Association (CCMA) nominee and CCMA "Male Vocalist of the Year" and "Record Producer of the Year" winner. His debut album on Sony Records' Monument imprint, Famous First Words, produced a No. 1 single along with several top 10s, gaining Grand the momentum to release two more award-winning projects. 
Grand moved back to Nashville from Canada in 2007 and shortly thereafter, his co-owned music publishing company, Grand & Gee Music, took home SESAC's "Song of the Year" award for his participation as a publisher on Chris Young's No. 1 hit "Tomorrow" and a GRAMMY® in music publishing for "God and My Girlfriends" recorded by Reba.